Grace Hopper Has a Posse
At Bugcrowd we love Grace Hopper, the original bug hunter. Learn more about her legacy and how to donate to her foundation.
Grace Brewster Murray Hopper, once known as the 'Queen of Software' has long been one of our company heroes. Those of you who know about Grace Hopper's accolades understand why, and for those of you who don't, prepare to be impressed. Read about Grace's accomplishments
here
, and watch this
Letterman interview
to get a glimpse into just why she is so inspiring to so many people. Throughout her academic, industry, and military careers, Grace inspired those around her, and never gave up on her good ideas.
"It's always easier to apologize for something you've already done than to get approval for it in advance." -Grace Hopper
Her programming work paved the way for the broader utilization of the computer as well as set the foundation for modern programming languages and of course is a leading example for women in technology.
"I've always been more interested in the future than in the past" -Grace Hopper
Perhaps one of the reasons we at Bugcrowd initially saw her as an inspiration is her influence on the hacking world. She essentially pioneered 'hacking' when she coined the term 'software bug'
after pulling out an actual moth
from the Mark II in 1947. Not only is Grace the original bug hunter, but she also embodies Bugcrowd's key tenets: innovation, perseverance, and respect. As a trailblazing woman, brilliant computer scientist and forward-thinking leader, her way of thinking
resonates with our company, and her accomplishments inspire us. We are glad that her legacy
continues to be recognized
and hope that our work pioneering the bug bounty economy–utilizing technology and the power of human creativity to secure the world's most integral companies–would have made her proud.
"No computer is ever going to ask a new, reasonable question. It takes trained people to do that." -Grace Hopper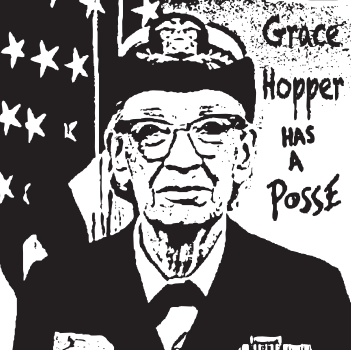 To get your own 'Grace Hopper has a Posse' t-shirt, visit our
online shop
.